January 29, 2016 at 3:09 pm
The children have really embraced the superhero topic and are enjoying creating stories, making capes and rescuing people/animals!

Next week we are reading the story 'Supertato'. Look out for our superhero vegetables and fruit.
January 26, 2016 at 2:54 pm
Last week, the children were asking about how the sirens on police cars work, so this week the children have been learning about how to make a siren! They have been using wires, bulbs, buzzers and batteries to make electrical circuits which enable the light bulb to turn on or the buzzer to make a noise. They have also been drawing pictures of their circuits.
We have two special visitors coming in this week. We have an Occupational Therapist coming in to show the children some x-rays and discuss the job role as well as a Nurse who has worked on a Special Care Baby Unit.
In RE/circle time, the children are learning about how to be helpful which links in with our topic 'people who help us'.
In maths, the children have been making and continuing patterns. The children have followed patterns and completed their own patterns. We have also been recapping 2D shape names and making patterns with these shapes. Some children have also recapped 3D shape names and their properties.
This a pattern that Nell from RH made today:
Most children are recapping the Phase 3 sounds in phonics this week and have been doing a fantastic job of reading and writing words with the sounds in. These are the Phase 3 sounds that the children have learnt so far apart from /ear/ /air/ /ure/ /er/.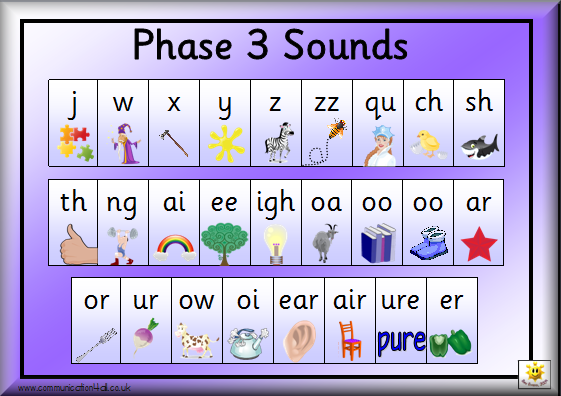 Some children are learning /ay/stay  /a-e/ take /oy/ boy /ou/ about.
Some children are learning /f/ /ff/ /l/.
In our literacy classroom (RH), the children have been reading CVC words e.g. cat as well as tricky words in water bottles. Please continue to practise tricky words at home. If the children have read up to blue tricky words, please continue to identify and practise tricky words that they come across when reading books.
January 25, 2016 at 11:46 am
Last week the children created their own superhero cape and thought of some fantastic magic powers. This week we are using our capes to create our own superhero stories. The children will be working in small groups to create a story using the ibook creator app on the ipads. This activity will challenge the children to be authors, thinking about the illustrations, words and story!
We continue to practise counting forwards and backwards to 10 and 20. We will also be playing a fun superhero skittle game – which numbered superheroes will they knock down?
The Beebots will transform in to superheroes and the children will need to direct them to the rescue by pressing the direction buttons.
Have a great week.
The Nursery Team
January 25, 2016 at 11:40 am
The Nursery children are learning to be counting Superheroes! We are learning to count forwards to 10 and back from 10.

January 21, 2016 at 4:21 pm
On Wednesday afternoon the children had a letter to read. It was from Sneaky Sid, he had stolen all of our dolls!

Today the children set out to find Sneaky Sid and rescue the dolls. They put on their superhero capes and worked out they needed to look for clues. While outside someone saw Sneaky Sid fly past the window, they then found baby clothes and bottles outside. On further inspection footprints were found on the frosty hill and Sneaky Sid's glove! The children then spotted someone on the roof – could this be Sneaky Sid? They shouted loudly only to find the roofers working. They checked the roof and found nothing.
Our search then continued inside, while we where in the hall flying to superhero music we found some more clues. We hunted everywhere and Jas discovered the dolls in the library! The dolls had been tied up with rope, so we rescued them quickly in case Sneaky Sid came back and took them back to Nursery to look after them.
Well done Superheroes!!
January 21, 2016 at 4:03 pm
On Wednesday morning we talked to the children about creating our own superhero story. We asked the children what or who would need rescuing? Here is our story…

The children thought of the story themselves. Great authors!
January 21, 2016 at 3:44 pm
The children are really enjoying learning this song…
January 19, 2016 at 4:03 pm
What an exciting afternoon we have had in Reception! We had a visit from the police as part of our topic "People who help us". The children had already prepared some very interesting questions to ask such as:
How do you get to an emergency?
What happens when you dial 999?
How many people have you arrested?
and many more.
Then the children had a look at the police van they came in. They sat in the 'cell' and turned the siren on. It was all very exciting!
In Literacy this week we are talking about the police and have already thought of brilliant questions to ask. We will be writing a description of their uniform.
In Phonics most children will be learning the sounds ur, ow, and oi. Miss Hutchinson's group will be learning the blends lt, mp, nd and nk. Mrs Fulton's children will be learning h, b and f. The tricky word this week is 'was'.
In Numeracy we will continue to work on addition and also practice counting in 2's.
Have a good week, from all in Reception.
January 18, 2016 at 4:52 pm
This morning something really strange happened: some of us played in the hall and some of us went outside in the snow and when we came back a Superhero play area had appeared! We did get sent a short video clip of a superhero blasting some light into our classroom and then it appeared! We had lots of suggestions as to who it might have been…
The children have really embraced the new toys, telephone box and superhero clothes. They are testing their strength and rescuing lots of their friends. Each child is creating their own superhero cape to wear at school. They have to think carefully about what super power they would like. So far we have Strong Boy, Brighid Batgirl, Sun and Rain Man, Sword girl and Slime Man. We are hoping to put our superhero powers to good use!
We are also listening to a number of different superhero stories. We will be encouraging the children to create their own story using some superhero figures.
Look for all the super powers when entering our classroom and if you need saving then please give our superheroes a call!
Have a great week,
The Nursery team
January 18, 2016 at 4:33 pm
This afternoon Nursery children went to visit 4G class to listen to their story telling. The children sat and listened well. Nursery children then had to practise their story telling skills and read a story to the older children using the pictures in the book.
Next Friday another group of children will be visiting 3S to listen to some stories they have written.